On Baseball



Meaningless September Baseball

by Noah Gittell

"When we lose meaningless September baseball, we lose some of the sport's hard poetry. We lose failure. Baseball is a game of slow failure."

by F. John Sharp

"The backup to the backup catcher / never plays when it counts or / when it doesn't. He practices with the backup to the backup right fielder"

Fidel & Me
Alan Swyer
If there's one key word in scouting, it's observe, and that's something I did plenty of as we approached what Comrade Dayana called a finca.

Walt Whitman at the game
Sean Lause
Walt Whitman / containing multitudes / spreads his plump rump on the bleachers / his blooming beard caressed by diamond breezes

Now Pitching
Conor Kelley
So my parents decided to send me to a pitching clinic in California put on by former MLB pitcher and pitching coach Tom House to figure out if I was cut out for pitching.

The Unwelcome Right Fielder - 1961
Bill Roberts
It was late summer, just a few weeks before / Roger Maris turned twenty-seven.

Clay Feet
Anthony Richmond
I couldn't forget it, and I hated Mickey Mantle for many years. I remember thinking I was glad my father did not tell me all of this that night in 1966.
Sports Talk Radio (1927)
Bruce Harris
Man, there were like 60,000 people there. Can you believe it? Let me tell you something. It cost fifty cents a seat. Are these guys crazy? I mean, to take a family of four to a ballgame is two bucks just to walk through the gates and into the stadium.
Number 5
Jeff Bernstein
It all started with such promise / He gobbled up every grounder on the left / side of the infield / like dogs at dinnertime / channeled his tics into a ritual dance / that every kid in New England learned
Spring Draining
Bill Roberts
I will arise tomorrow morning / jump enthusiastically into my / well-stocked, ancient Honda / and take off for Mesa, Arizona / spring training home of the hated / Chicago Cubs baseball pretenders
City Limits
Ed Markowski
the scream and squeal of factory whistles was silenced by the swift / crack of a Kaline rifle shot / and the avalanche of voices / Al's bullet set in motion / cascading from Michigan and Trumbull clear across the / Mackinaw Bridge then into the blue of Lake Superior
Bringing my Mitt
R.J. Fox
My obsession for the game quickly became well known. At family gatherings, I would eagerly ask my countless Italian cousins "Did you bring your mitt?" Usually, they did not. But of course, I did. And I never lost hope that someday, they would bring theirs.
Christmas, 1965
Bill Baber
It must have been something / about his name, Eddie Matthews / a regal baseball name / that rolled off the tongue / Sounding so slick, so smooth / like someone who gobbled / every ground ball pounded at him
On the Death of Seamus Heaney
John Stanton
My father saw Ted Williams / back from Pacific hell / swinging two bats in the on-deck circle / like the definition of America
Put Me In, Coach
F. John Sharp
The backup to the backup catcher / never plays when it counts or / when it doesn't. He practices with the backup to the backup right fielder
Woodland Avenue
Ron Herron
mr. condon's house / foul territory north / because of the rottweiler / we called t-rex / mean mr. bailiff's / touch-me-not studebaker / always parked in right field / taught us to be pull hitters
Hoot Evers, Vic Wertz and the Bagel King of Detroit
Rich Yurman
Wertz dug into his jacket pocket and pulled out a ball, an official American League baseball. He handed it to me and they offered to sign it. "But I'm a Yankee fan," I choked out."
Budd's Auto Body Angels
Robert Friedman
Tiger was a sort of baseball dandy. He was always straightening his pants, tucking in his shirt, wiping the dirt from his shoes. I couldn't imagine him ever sliding into a base. Too messy.
Chin Music
T.R. Healy
For a while that summer, in tribute to the great ball player, we adopted certain mannerisms we associated with him. We blessed ourselves before we stepped into the batter's box, announced balls and strikes and runs scored in Spanish, even cursed in his tongue when we were pitched too tightly and brushed back from the plate.
Where Are They Now?
Steven Bryan Bieler
When I was a little boy I was given a teddy bear and named him Shortstop. He was floppy, fluffy, and could hit the ball from both sides of the plate. He wore a short vest on which I crayoned his number.
Baseball is Life
R.D. Power
It's not fair from the outset. An elite few are born superior and with proper training they succeed where those with lesser talent fail no matter how good the teaching and how hard they try.
Name-Calling
Max Everhart
Nothing you can do will ever make you feel as powerful as bashing the hell out of a baseball. Not making your girlfriend come. Not snorting cocaine. Not running your car up to 100 mph. Not inching your toes up to the edge of a mountain. Nothing. Nada.
A Blue Turncoat
Gerard Sarnat
Baseball being a sport of tradition and statistics...who do you vote for as the greatest player ever?
And Somewhere Men are Laughing
Len Joy
I can't begin to explain why sitting in the hot sun on hard wooden seats for four hours watching the Cubs lose to the Padres or the Pirates or the Mets would be so much fun.
The Perfect Game, the Invincible Record
Carl Schinasi
There it is. On June 21, 1964 I was ejected from one of the most spectacular events in the history of baseball and as history reminds us, one of the most astonishing accomplishments by an athlete in any sport.
Three Players. Three Fans.
Tom Carlson
I can't remember the first words spoken by my first-born daughter, I can't remember my mother's last words to me, but I can remember the first—and last—words Pee Wee Reese spoke to me more than a half century ago.
Curveball Summer
Douglas Campbell
I wanted to throw the ball through Norman's fucking head, and I flung it at him as hard as I could. Just for the hell of it I tried spinning it too. And for the first time I saw that sucker curve.
The Golden Child of Red Sox Nation
Kim Girard
Kate doesn't know it yet, but she's part of Red Sox Nation. That she was born in a rural town in China some 7,000 miles away doesn't matter.
Bird in the Grass
J.R. Sailing
What a beautiful day at the park, the sort of day that people who design parks always sketch to sell their idea.
The Season That Almost Wasn't
Tom Meek
For thirteen years I've been a Red Sox season ticket holder, though last season, which began with a tantrum, almost was the season that wasn't.
1980: A Memoir About a Loss and a Win
Robin Slick
For my 12th birthday, my mother took me to a coffee house to see Joni Mitchell perform. I tried to sit there looking all hip while my mother listened to the Phillies' game via earpiece on her transistor radio.
Forty Years
Andrea Lewis
Forty years became a blip when I saw Griffey dig into the batter's box, tuck his chin into his right shoulder, and flutter his eyelashes at the pitcher like a coquette at a cocktail party.
Ayn Rand and the Cleveland Indians
D.E. Fredd
She took over and became the trip Nazi. Rather than drive across New York State, why not go to Pittsburgh? She had relatives there. We could stay with them. Forget Triple A baseball, they weren't even real professional players, were they? And who wanted to go to Toronto anyway?
Where Have You Gone, Joe Garagiola?
Patrick Rasmussen
I suppose it might be tough to fathom how the A's could have been so good in the carport league. Surely you remember Reggie Jackson? He was the heir apparent to Willie Mays in 1969. He was chasing Roger Maris' asterisk that year, blasting home runs at an incredible rate. I think he finished the carport season with two hundred homers, edging Mays by one.
Obscurity is Topps in My Book
Stephen Ellsesser
Luke and I have been in a seesaw battle of seeing who can name the most obscure baseball players...I think about it as the greatest ongoing conversation ever...
Barry Bonds, Dodger Blue and
the Deaths of Mothers
Michael J. Vaughn
But it was all baseball, and it gave me a new perspective on softball, a sport where you didn't have to contend with 90-foot basepaths, 85-mph fastballs at your chin, and runners with metal cleats. I also noticed that baseball players had more respect for their sport –- precisely because it was tougher –- and for each other.
Baseball as the Antidote
Jeff Beresford-Howe
Mexicali fans at Nido de los Aguilas, it turns out, like to chant, and the thing they most like to chant is the nickname of Smith, who leads the league in RBI. But you don't get a lot of "Bubbas" in Mexico. The fans have trouble with the "uh" and instead render it as "Boo-ba," which gives it a much lighter, happier air.
Why I Never Played Ball
Cecilia Tan
My father grew up in the Philippines during World War II. They didn't have baseball gloves; they didn't go out and play catch in the evenings. In fact, to hear him tell it, their main sport was riding a pig bareback through the house (until the Japanese soldiers killed it for bacon) and picking the leeches off their legs from wading through swamps. So Dad couldn't mentor me in baseball.
Lewis in the Bush League
by Jeff Beresford-Howe
As I was watching the A's sweep the Rangers out of town this weekend, I thought, God, it must be depressing to be a baseball fan in Texas.
Being a Baseball Chick
Lorelei Tabor
I don't dance on bar tops...I don't even send drinks to strangers. My strategy is so much simpler and causes no hangovers. I'll approach a guy, flash a winning smile, and ask, "Do you know who owns the record for the most strikeouts in a World Series Game?"
Fan at Work
by Cecilia Tan
No one seemed the brawling type. But as I would later learn, you can be doing nothing and get ejected from the Fenway Park bleachers, at least when the Yankees are in town.
Trading Ethics
by Jeff Beresford-Howe
Transcendent talent is a scarce commodity. If you can hit .320 or win 20 games, it doesn't matter if you beat your wife, espouse bigotry in the name of Jesus, lie about the source of an injury in order to rip off millions of dollars or try to hurt other players with thrown balls and bats.
Standing Up Against the Yankees
by Jeff Beresford-Howe
Baseball is nothing without narrative and context. Jeremy's fate is one of the few that calls to mind the game's most famous "what if" play, the one in which a ground ball went through first baseman Bill Buckner's legs in Game Six of the 1986 World Series.
How Baseball Changed My Life
by Marcy Sheiner
Five years ago, if anyone had told me I'd be walking around in a baseball cap, cheering, booing and citing statistics, I'd have thought they were nuts.


Fiction
Giambi
Valerie Lewis
Baseball is the opposite of clinical depression. Depression is heavy and cold and stagnant. Baseball is warm. It's sunlight on bright green grass and crowds of people all chanting for the same thing. Baseball is junk food and falling asleep in an easy chair.
Colorado
Matthew Boedy
I spoke about baseball, about the purity of the game, like I spoke of her. Purity. Holiness. Like holding a white baseball in your hand, clean, with the seams raised.
On a Wire
Craig Terlson
Seger blasted over the engine drone -- we were just young and restless and bored. Add stoned to the list, and he would have nailed our team, the Black Sox.
The Atlas Show
John Walker
I hadn't set foot on campus in three weeks. Atlas already had tickets to the first game, but I had no guts to tell him straight that I'd been kicked off the team.
Ten Bucks if You Hit One
Daniel Cavallari
If that would take away the guilt I felt for not being there the one time he needed me, I would swing at a thousand pitches, break a million bats. I would give him the ballpark.
Curt Schilling and The Lord of Hosts
Walter Maroney
You can damn yourself in an instant, God thinks. The sun goes behind a cloud and emerges again, a burst of light and warmth on an old man's shoulders. People just don't understand that anymore.
Ryan's Catch
Jon Sindell
I think I have a shot at moving up to Stockton. He said I'm really coming around, and that I just have to work hard to move up through the ranks. He meant it, I think; but the whole time he was talking to me–actually, I did most of the talking, I guess–he kept casting glances at Frankie, like a guy stuck on a date with the wrong girl.
The Truth About Paradise
by Oona Short
Evie turned around. A sticky wind blowing in from right field tousled her hair, dyed not the blonde she had hoped for, but a shade that exactly matched the orange of the home team's uniforms.
The Magic of the Yankees
Elizabeth Barrett
"He is not going to wear his Yankees cap," my mother said, looking at me like I had suddenly grown two heads. "Who buries a relative in a baseball cap, for God's sake?"
Fleischer
Christopher Justice
But Fleischer's stories always returned to one topic: Bob Feller. No matter how our conversations started, they always ended with anecdotes or debates about "Rapid Robert".
Keenly I recall the baseball-loving Roth / at bat, his five-o'clock shadow from Friday / dark as Iowa loam, a classic stance, dug in / a scowl for the pitcher
American Pastimes
Katie Ferrell
To be perfectly honest, I'm not so sure I'm the crazy one here. The whole damn world is crazy, and if you're not careful you'll find yourself stuck at the bottom of a people pyramid, or worse.
The Only Nolan
James Dawes
Cleveland had a real pitcher's mound, not just a patch of dirt. Nolan had never seen a mound with a slope.
The Professor and the Strikeout King
Sam Harper
Children dream many dreams. Larry's one and only dream was to become a major league baseball player. But his first year in Little League had been a dismal failure.
No Girls Allowed
Sereana D. Bird
Only three more pitches, three more strikes, and her team would win the Rural New York Farm and Merchants League Baseball Championship of 1921.
Going Yard
Susan DiPlacido
Dust flies, my helmet rolls off, and I can hear it. Laughing. That fuckin' lefty on the mound is laughing, so's their second baseman. And so is, I'm sure, everyone in the stands. Even her.
She Did What She Did
Ryan Dilbert
The first woman to play in the majors would be beset with more pressure than any overhyped rookie out of high school could understand.
The Redemption of Billy Saddle
Michael J. Vaughn
I was a celebrity. I got death threats. The cops said they couldn't make any promises. I decided to move, but my wife said she couldn't leave Tennessee, couldn't put the kids through it. I think the truth was, she didn't want to be married to Big John's Curse.
The Pinch Hitter
Nathan Leslie
Each time the pinch hitter walks to the plate, for a brief moment, a split second, he sees a vision. A crane flies slowly over a dusty road, over a line of birch trees, over a bog, and swoops downwards to a vast lake, the sun nearly blinding.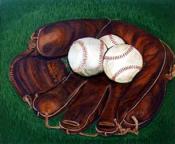 God and Baseball on the Roofs of Brooklyn
Walter L. Maroney
In my dream, in its earliest part, I am still entwined in Phoebe's arms, wrapped in bed sheets that are tangled, damp and funky-smelling from the fucking we have just concluded. It is summer. All over Brooklyn the air shimmers over tar roofs. From my window, the World Trade Towers seem to dance in the sunlight across a wavering vista of brownstones and church steeples.
The Final Summer
by Tom Sheehan
The jock writers picked it up, then TV. "Forty-two year old old rookie is signed up!" "Hope blooms eternal for the carpenter!" "The Hammer hopes he can pound a homer!" "Thor to get chance to bat in Majors!"
The Kid, the Aliens, and Uncle Charlie
by William G. Hutchings
Eddie's duffle was a little heavy because of his collection of about 1,000 baseball cards. He'd been collecting since he was nine. Didn't carry much else in the duffle. Levi's, couple of t-shirts, underwear, shaving kit, his mitt, and spikes. He didn't really need the razor. The peach fuzz on his face could only be seen when the light was just so, but his teammates shaved, and he wanted to be like them.
Poetry
Christmas, 1965
Bill Baber
It must have been something / about his name, Eddie Matthews / a regal baseball name / that rolled off the tongue / Sounding so slick, so smooth / like someone who gobbled / every ground ball pounded at him
Woodland Avenue
Ron Herron
mr. condon's house / foul territory north / because of the rottweiler / we called t-rex / mean mr. bailiff's / touch-me-not studebaker / always parked in right field / taught us to be pull hitters
Spring Draining
Bill Roberts
I will arise tomorrow morning / jump enthusiastically into my / well-stocked, ancient Honda / and take off for Mesa, Arizona / spring training home of the hated / Chicago Cubs baseball pretenders
Cubs Suck
Salvatore Marici
A dollar gets us in where NASA conducts experiments / on the 300 fans who absorb lost games / like black holes absorb light
The Negro Leagues: A Praise Song
Steve Klepetar
Song in the wind, a Kansas City wind rising / in shadow, snappin' at dust like Satchel's curve / hitter dazed on his heels, or a streaking blur / along the river
Ode to Ichiro
Michael Ceraolo
One name, like a rock star, and rock-star style to back up his substance, climbing the wall and sitting there
When Baseball Is Life, and Vice-Versa, and Death, Too
Vincent Renstrom
Hey batter, hey batter / hum, baby, hum / Life steps to the plate again / Let's see if it can hit this one
To Parker at Short
M. P. Aleman
Missing a two-hop grounder / with a sister watching from a green park bench / can wrench tears from the stoutest of hearts.
Statistics
Ed Markowski
pitched nine innings / every one a perfect goose egg / rewarped # 11's mind with a pitch / that flowed like a slinky / slipping down a spiral staircase
Philip Roth Bats Me In: An Iowa Writers Workshop Memoir
Arthur Plotnik
Thomas Feeny
Summer Slump
Crowds cheer / Vendors run out of beer / life is lush, you're on a roll / till cruising around third / you stumble, trip, suck / sand, end up / in a log-jam jamming home
The Base-Stealer Reprised
Michael Ceraolo
Just like in Robert Francis' poem / he was dancing back and forth on the tightrope / though this time the scene was off third base
on account of darkness
Laura Bontrager
when he blinks, the ink of the newspaper / January 19, 1947 / swims in his vision like scurrying baseball players / on the diamond, getting under a fly ball
Right Fielder
David M. Harris
teaching ball and glove to belong together / binding the tools of summer
Home Run
Michael Haeflinger
sometimes / on my bench / half underground / I imagine / getting over / the fence / leaving and returning / the same day
Saints of Song
Thomas Michael McDade
The Dixieland Band is aboard / the riverboat out of Barton Grove / The slide trombonist / plays "Hello Dolly" solo / near the bridge that Ted / Williams flew under / in his own plane
Farewell to Edgar
Michael Schein
It is written in the icon of the old veteran, hamstrings plucked, eyes dulled, belly bloated, reduced from home runs to speechifying, an awful spectacle, as if Rilke or Auden were suddenly handed a bat with the bases loaded.
homage to williams
Ed Markowski
so much depends / upon / a small red / pebble
A Green Monster Grins
Four Game Sweep
Jonathan Hayes
six umpires convene like monks in black robes
to declare a homerun, and the beginning of the end
Reconciliation
How Money Changed the Game
Alan Berecka
As a child I spent my days playing self-invented games with baseball cards. I transformed my mother's well-kept den into a not-to-scale replica of Yankee Stadium. The house that Berecka built consisted of reassigned furniture.
Ticket to Desire
Ed Markowski
back then, ours / was a league / where a short foul ball / bought you a one way ticket / to desire
4-6-3 Poetry
Michael Schein
the kiss of the ball / in the outstretched mitt / as the runner's arched foot / slaps first slicing the moment / like shaved ice / alternate universes / branching before the eyes of thousands
section 408 tiger stadium
Ed Markowski
the sudden movement / of ten thousand necks turning / at once to watch a small / white ball kiss a distant / autumn cloud
Ken Harrelson's Nehru Jacket
Steve Brightman
A faux pas larger than fashion -- larger than the game -- almost slid by unnoticed, save the laughter of a few Kansas City beat reporters.
Assist
Susan Snowden
Adolescent male / ball player, caught / in the jaws / of a batting slump
Those Old Suntanners
by Tom Sheehan
You know, the old summer Class A's they saved from their promised long weekend leaves, those killers, those formidable young warriors, those hot Omaha Beach swimmers with salt in their noses and in gun barrels and curing half the ills and evils they had ever known...
Tiger Stadium: October, 1968
by Susannah Indigo
"You have to keep score or it's not baseball," my father said sternly, always in control of everything except the times. "It's just not safe down here anymore," said the men who joined white flight to the suburbs in the early sixties, yet wondered why things had changed.